End of Year (EOY) creates unique challenges for the Dynamics GP installation. There are many tasks and a few gotchas that can be alleviated if ActivReporter is utilized in the GP environment.
This blog is the first of a three-part series showing how ActivReporter can assist at EOY in GP:
Part 1: Use ActivReporter to produce accurate financials before closing the prior year.
Part 2: Use ActivReporter to facilitate the closing process.
Part 3: Use reporting ledgers and ActivReporter to increase power in financial reporting.
The Current Problem with Dynamics GP at Year-End
Dynamics GP has an Achilles heel in that you must "close" General Ledger for the prior year in order to produce accurate financial statements for the new year.
The closing procedure in Dynamics GP performs two processes that are essential for accurate financial statements:
Balance Brought Forward (BBF) entries are created for all balance sheet accounts.
Retained Earnings (RE) entry is created using the net amount in the P&L accounts for the prior year.
Management Reporter (MR) and other financial reporters rely on these entries to produce next year's balance sheet.
In many cases, it is not practical to close the prior year before new year financials are required.
As a workaround, some GP professionals have created special report definitions in MR that are utilized before the closing of the prior year and use other report definitions for the remainder of the year. The downside of this is extra maintenance on a report definition that is rarely used.
Premature closing of the prior year introduces another issue: Prior Year Adjustments. Most enterprises will have some special end-of-year postings that are only available weeks after the physical year-end. GP has a process that allows postings into the prior year. However, these postings require a special set of instructions. This process sometimes results in other issues.
A Different Way to Solve the BBF and RE Problem
ActivReporter is not dependent on the special end-of-year RE and BBF entries that are created at GP closing. ActivReporter calculates account balances using all historical debit and credit postings for each account. Since balances are always calculated fresh instead of using "bucket totals" brought forward from prior years (e.g., BBFs), it can produce a more consistent result. Also, ActivReporter calculates all RE amounts from the journal entry details instead of depending on the explicit postings from the closing process.
Consequently, you can produce accurate financial statements with a single financial statement design, independent of closing the prior year.
And consequently, you can wait to close your general ledger until the auditors and external accountants provide a final and complete set of closing entries.
The Fabrikam demo data set is a uniquely appropriate dataset for demonstrating ActivReporter's capabilities. As you may be aware, Fabrikam has NEVER been closed as evidenced by this screenshot from GP.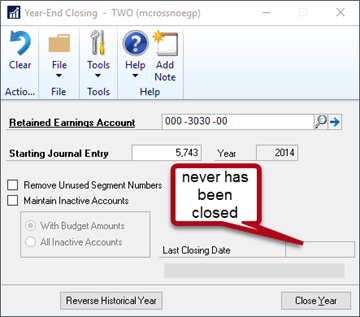 The only postings to the retained earnings account are the "bootstrap" balances on 12/31/2013 as shown here in ActivReporter.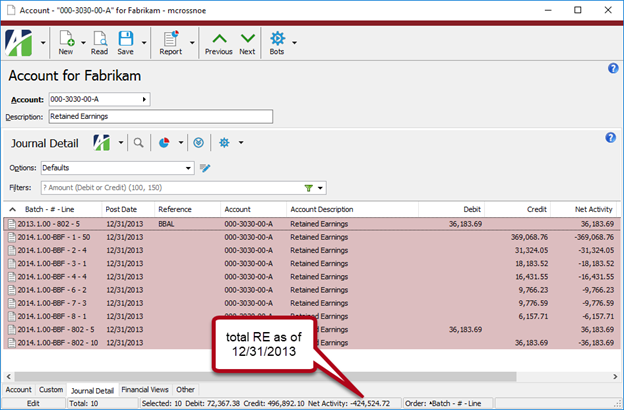 Below you see a side-by-side comparison of the Balance Sheet produced by Management Reporter and ActivReporter for the first period of 2014 and 2015.
The 2014 column for Management Reporter (MR) is accurate because there are bootstrap beginning balances posted at 12/31/2013. However, in the MR 2015 column, all amounts are just the transactions for the January 2015 period, not the desired ending balances on January 31, 2015. This is because there are no BBF entries in the database at EOY 2014. Also, note that there are no Retained Earnings shown.
However, the Balance Sheet produced by ActivReporter (using the exact same database) shows accurate financial statements for both the years of 2014 and 2015, without closing the fiscal year 2014.
In the presentation, Retained Earnings have been split into two amounts: the original amount from 2013 and the amounts in all subsequent years. This split is just for illustration purposes; the numbers could be combined into a single line item on the financial design.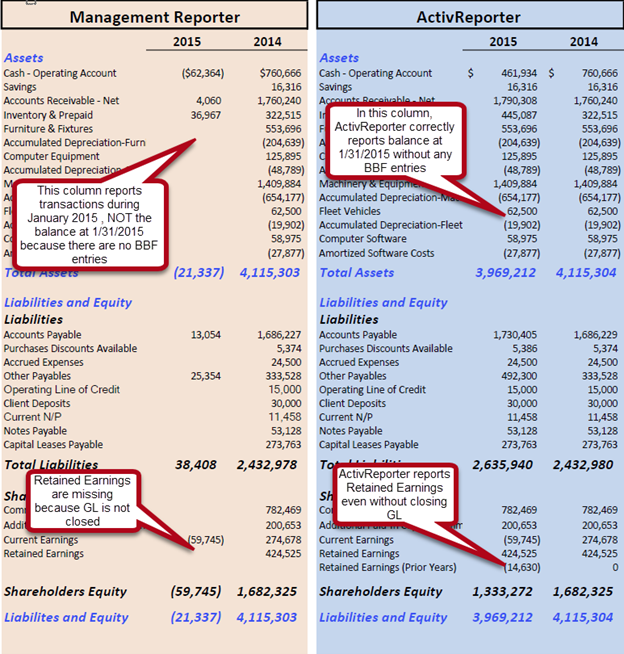 So, this begs a question. Why close the year at all in the General Ledger package? You must still close at some point because postings are transitioned from the current year tables (GL20000) to the historical tables (GL30000). Also, pre-stored ("bucket") totals are updated in the system. These actions make the entire GL system more efficient and support other internal Dynamics GP processes. ActivReporter just allows you to maintain sanity at the EOY and allows you to close at a sensible time rather than on a forced schedule.
You have enough to accomplish at EOY with all the 1099 filings, payroll deadlines, and tax work. Let ActivReporter produce your financial statements and ease the pressure throughout the entire year.