As accountants everywhere know, the role of accountants has been evolving continuously over the last decade. The need for business decisions to become more agile and proactive is exceedingly growing. As important as the previous month's or year's financial report is, it is more critical now than ever for decision-makers to have immediate information at their fingertips to help act on today's financial environment.
There is no greater example of this need for change in the role of accountants than the impacts of the global COVID-19 pandemic. Businesses had no choice but to meet several challenges, including employee turnover and sluggish supply chains. As health restrictions were lifted, companies faced further challenges to meet increased activity as the economic outlook improved. The following insights can help meet the ever-changing demands of the accounting department.
New Accounting Roles

As Accountants, we should try to help meet the information needs of modern businesses. To do this, it is time to reimagine current roles. It is not enough for accountants to compile information; we should also analyze it. No longer do accountants report, but we should also advise. And lastly, accountants should not only observe but also help to participate in business decisions.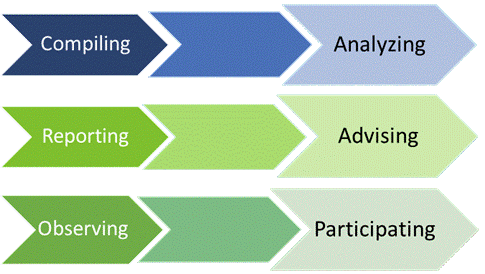 These types of changes in the functions of the accounting department require courage, innovative thinking, and minds open to embracing new technologies. These topics are not based on ideals or fantasies; they are principles that the profession has taken note of and is adopting. As you can see, the latest changes to the certified public accountant (CPA) examination focuses on analytics and emerging technologies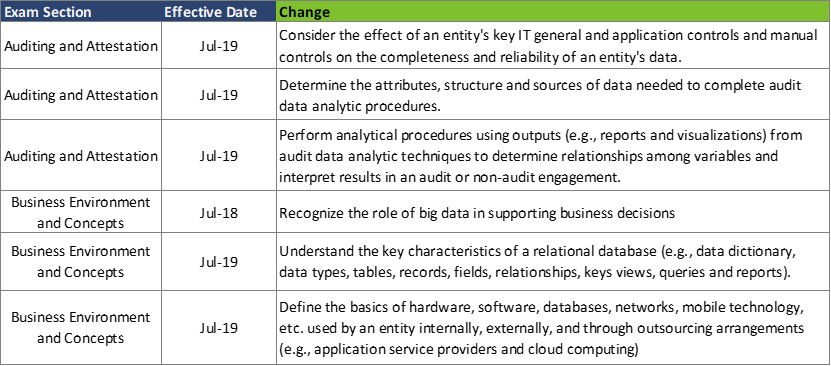 American Institute of CPAs (AICPA) CPA Exam Blueprint published October 5, 2017, and October 4, 2018
Big Data vs. Small Data

This evolution in accounting aims to move away from valuable staff time spent reviewing and chasing every transaction and instead focus on just the anomalies and the overall bigger picture.
It is like the difference between looking through a microscope versus a telescope to try and determine where you are and where you are going.
As technology becomes cheaper and more easily accessible, efficiently processing all the small details becomes more crucial. Advancements such as process automation can check for accuracy by comparing an invoice to existing records in an enterprise resource planning (ERP) system. For example, after the process automation system verifies that a signed contract exists and/or field tickets for services are completed and accurate, an invoice is automatically created and processed, or a warning is created when exceptions are noted.
Machine learning and artificial intelligence can further simplify accounting by using algorithms that detect and predict recurring payables, classify them in the appropriate category, like subscription fees, utility fees, etc. and automatically schedule them for payment.
Big data can also be used to analyze the past and plan for the future. Forecasting is a vital accounting tool and not just something relegated to forecasting sales. Expense and cash flow forecasting became crucial during the pandemic. Reviewing key performance indicators (KPI) and other forecast variances weekly and possibly daily could force significant decisions for the near term in an unstable financial environment.
It's good to remember this concept inspired by some of Charles Darwin's ideas:
Take Inventory of Your Financial Reporting Needs

Innovation in accounting requires that you first take stock of the reporting needs of the business and begin to reimagine how these accounting processes can be improved or even automated.
For example, what kinds of standard monthly reports are created for your business? Who uses them, and what do they use them for? Are there any special reports that have been requested in the past that could become standardized?
What kind of E-mails and memos are sent to the accounting department requesting information? What requests for information are needed but not provided (timesheets, travel expense reports, etc.)? Do people have to ask additional questions because the accounting information provided is unclear or incorrect?
As remote work has become the standard for some, what reports do decision-makers need access to remotely? Is that information secure and safe from cyberattacks? Outdated accounting software can increase the risk of ransomware and other malware.
One of the biggest roadblocks to the timeliness and usefulness of accounting information is the closing process. Real-time financial results can be critical when the financial environment is dynamic and things are changing quickly. The traditional month-end close is no longer sufficient to meet these demands. Daily or even continuous closing processes that use proactive accounting and technology-driven solutions are a trending topic for accountants. It's crucial to take stock of your current closing processes to see how they can be improved.
Going Beyond the Accounting Department

Innovation also isn't achieved in a vacuum. It takes creative ideas from varied sources to develop original solutions that can help modernize the accounting department.
When taking stock of your internal financial reporting needs, it's key that accountants know the business they are providing information for. Sometimes this requires going outside the accounting department and working closely with other departments.
One of the ways to achieve this is to break up the concept of the 'Accounting Department.' For example, if accounting staff worked closely with sales or marketing, insights and innovation can be sparked, allowing accounting to develop solutions to meet their informational needs. This helps change the mindset from focusing on the past instead of working on how to meet the current and future needs of the business.
This doesn't just mean proximity to other departments or including accountants in cross-departmental meetings. It also means that we should coach and encourage accountants to be committed to listening to others. Giving room to grow and providing opportunities to train and develop soft skills can also encourage innovative thinking and reduce stress and improve productivity.
Make it Count

These concepts for the future of accounting are not new, and many accountants are already adjusting to their new role as advisers and the increased demand for meaningful analytics. This shift in focus has increased the need for additional skills that not all accountants possess.
Implementing innovative ideas also requires buy-in from the rest of your team. Having the soft skills to promote ideas, solicit feedback, and lead revolutionary thinking can determine whether your recommendations will be accepted.