Bank Reconciliation
ActivBR - Bank Reconciliation Software
Manage the entire banking relationship and align bank records with internal records
ActivBR tracks your organization's bank transactions and helps you reconcile these transactions to the statements from your bank. Compare your records automatically and easily view differences between these two sets of records for your cash transactions. ActivBR also maintains the check designs, check audit processes, positive pay, and EFT transaction information for the entire ActivityHD system.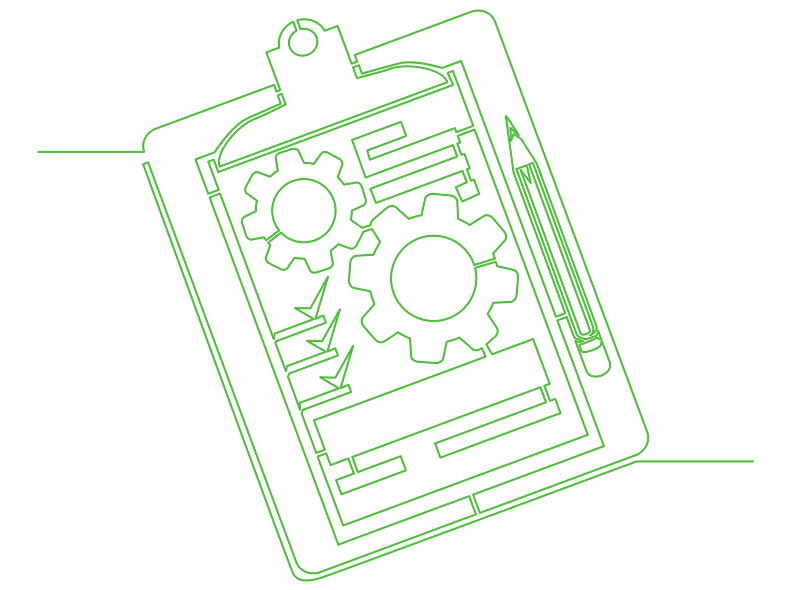 Manage Banking Relationships
ActivBR is the central place to manage all banking relationships for the entire ActivityHD ERP system. Check design, positive pay, EFT information, routing numbers, and more are recorded and maintained in ActivBR. ActivPR, ActivAR and ActivAP integrate with our bank reconciliation software.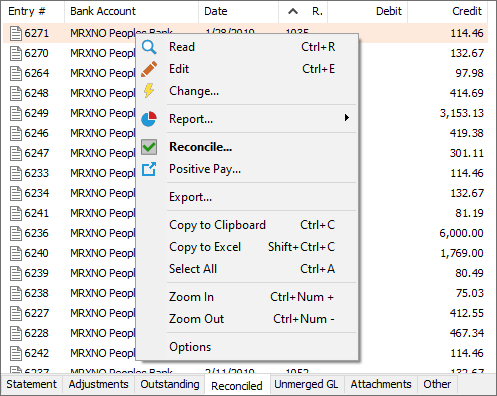 Easy Bank Reconciliation
ActivBR makes it easy to view what has been reconciled, or what is still outstanding. In ActivBR you can not only view the data easily, but you can move items seamlessly between the two sets of data. The software allows you to reconcile manually, or you can reconcile in bulk with a downloadable file from your bank.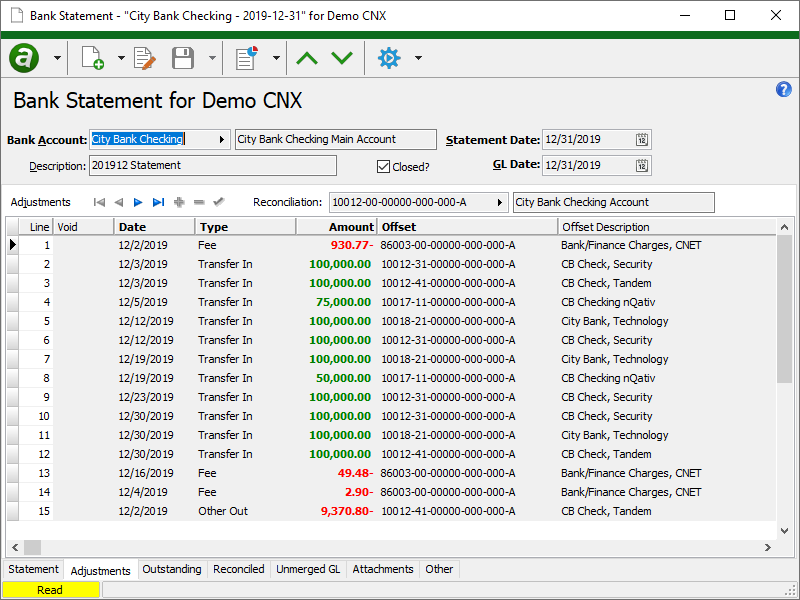 Enter Adjustments
When you receive your bank statement, there may be fees, bank account transfers, and bank errors that require adjusting postings to the general ledger. These adjustments can be made directly in the ActivBR package rather than going to ActivGL to make the postings. This makes it efficient and traceable.
One-Stop-Shop
Visualization of the bank reconciliation process is a key feature of ActivBR. You can see all the reconciled, outstanding, and general ledger postings in one location. You can scan your bank statement and attach to the electronic record.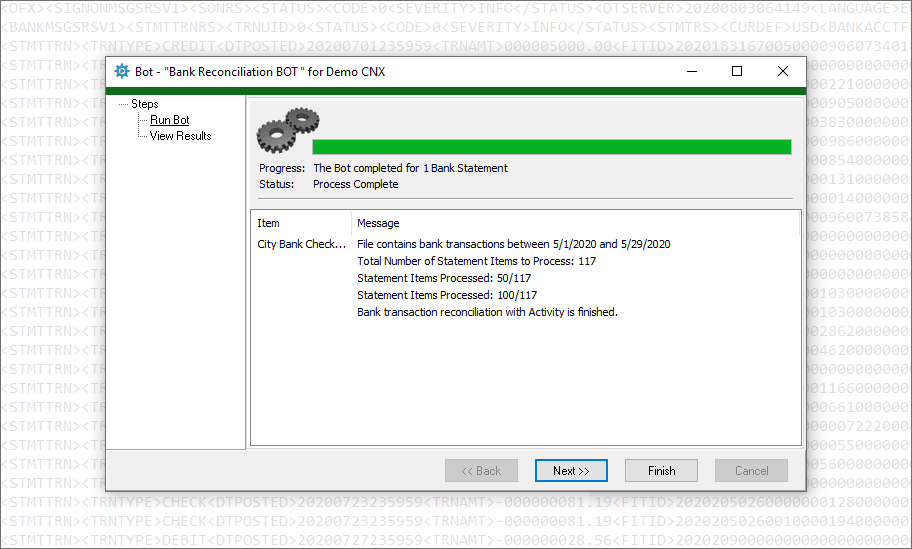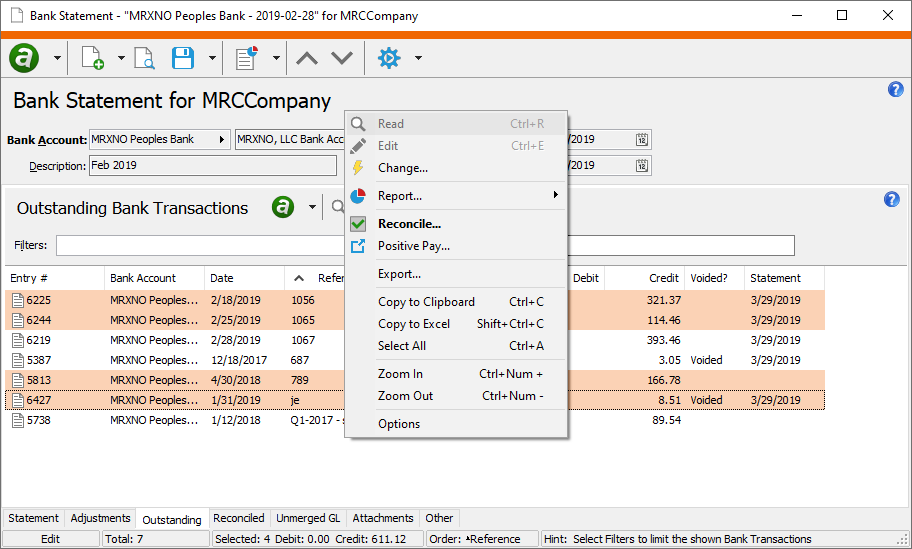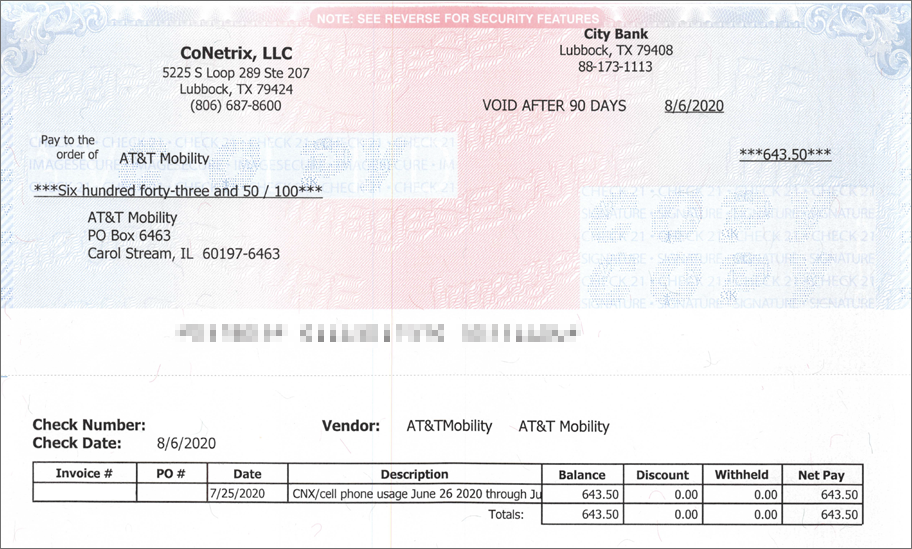 Automated Reconciliation
All banks offer a standard download format for transactions (e.g. QIF, QFX, QBO, CSV). Any of these formats can be used to automate the reconciliation process.
Manual Reconciliation
For bank accounts with few transactions, you can manually move items back and forth from the outstanding state to the reconciled state in order to complete the reconciliation process.
Check Design - Standard or Custom
Bank Reconciliation provides multiple pre-designed check forms. These forms are available for preprinted and blank check stock. You can also develop your own check designs.
Additional Features
In addition to the features outlined above, you will also have the ability to:
Drill down to the original deposit or payment when integrated with our core financial packages
Clearly see and document gaps in check sequencing for any torn, voided, or misprinted checks
Explain the reasons for any breaks when they happen, not when auditors get involved
Generate and send positive pay files to your bank to validate bank transactions and control who and how much your bank pays on your behalf
Fully support EFT, printed checks, debit cards, and manual checks
Reconcile items other than bank accounts such as credit cards, suspense accounts, health insurance statements, etc.
Automate repetitive tasks within ActivBR using automation tools included in the software
"We write a minimum of 200 checks a month to one time vendors every month. This used to take 1 1/2 days a month, now it takes literally five minutes (less if my printer was faster). They deliver what they promise and more."
Barbara P.
Controller
Healthcare Industry
"The functionality of the software to generate financial statements within minutes is phenomenal! The ability of the system to reduce journal entries because of the accounts payable & accounts receivable systems to do accrual with the extra GL feature makes operations more efficient!"
Raechelle G.
CFO
Accounting Industry
"We currently use all packages that the software offers, and run multiple companies in the software. They are on the cutting edge of technology but keep a customer service level that is second to none."
Jennifer M.
Controller
Entertainment Industry
"AccountingWare provides great customizable software that can be used for an entire company in all aspects of the accounting system including asset management, payroll, and bank rec. It ties back to the General Ledger account codes and is very easy to manipulate."
Matt C.
CEO
Travel & Tourism Industry
Frequently Asked Questions
To manage transactions on your actual bank statement, such as additional charges, fees, or deposits, use the table on the Adjustments tab. Each adjustment creates a posting to the reconciliation account and a posting to the offset account you specify. The adjustments for a particular statement are aggregated into a single journal entry. When you merge a statement's adjustment journal entry, the necessary bank transactions are created automatically and become available on the appropriate statement for reconciliation.
Yes, and you can account for (audit) any missing check numbers within the software with documentation for the missing check sequence numbers.
Yes. The ActivBR system will provide number sequencing of the checks automatically and print any custom logos on the checks.
You can set your own limits for automatic signing of the check. You can also set limits on which checks require multiple signatures.
Because of fraud related to doctored checks, banks will accept electronic files (positive pay files) that identify check payees and amounts for validation. If the check is altered before being presented to the bank for payment, then the bank will refuse to pay the check. ActivBR will create these files to send to your bank for each check run.
You may choose how you enter sweep amounts. You can enter (or import) the transactions in the general ledger. The best way is to download these sweep transactions and use a BOT to post these transactions. They are then cleared with the ActivBR system.
Yes, you can attach any file of any type to the electronic statement in ActivBR.
ActivityHD in conjunction with ActivBR will allow you to "reprint" any check (with security controls). You can also void the payment and reissue a replacement check.
Ready to see what Bank Reconciliation Software can do for you?